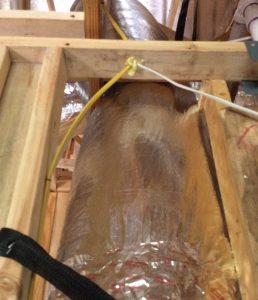 Here is a picture of an HVAC chase entering the attic from the master bedroom.  There is no blocking/spray foam sealing the duct.  This is an example of a gap in the thermal boundary.  Although it may seem minor, when you add up all the little gaps and unsealed penetrations between the attic and thermal boundary this can equal higher cooling bills  . . . and higher blower door numbers!
Contact IES today for consultation on a sealed house!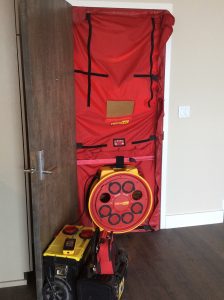 In July, all new construction homes will require a blower door test to confirm the tightness of a house.  Infinite Energy Solutions is a 3rd PARTY ENERGY TESTING company.  We conduct a variety of testing services to help builders meet the current Florida Energy Code.  Our certified inspectors are using the most up to date equipment to perform accurate inspections.  Along with blower door testing, we also conduct HERS Index ratings, Energy Star certification, and Green certifications.
Contact IES today to meet your testing needs!